AROMAMUSK
Regular price
Rs. 229.00
Sale price
Rs. 189.00
Unit price
per
Sale
Sold out
Share
View full details
Let's get into the details.
100% PURE NATURAL & ORGANIC ROSE WATER 

Perfect for toning face, neck, eye area, dry skin, body and hair for balancing PH, acne prone skin, hand spots, dark spots and to overall balance skin as a botanical astringent and toner. Made from rose flowers, like the red roses you're familiar with. A natural reducer of redness and a leader in liquid toners.
ADDS LUSTRE TO DULL HAIR

Natural Rose Water contains gentle and natural antioxidants that remove pollutants from hair and boost hair health. Spray or apply after using shampoo or conditioner to gently tone and brighten hair. Relax to the scent of rose petals and notice how radiant your hair looks!
HOW TO USE ROSE ROSEWATER 

Cleanse skin with a natural cleanser such as Argan Oil, Jojoba Oil, Coconut Oil or any other face wash and rinse with water. Mist or put a few drops on a cotton ball and smooth over skin area. Spray or apply over hair after using shampoo or conditioner. Apply lotion, moisturizer and makeup after toning skin. Enjoy the scent of the rose petals! The natural healing from rose petal rose water is an ancient natural beauty secret.
ONE INGREDIENT ONLY

Alcohol Free and non oily, glycerin free, and additional fragrance free (no perfume added), paraben free, vegan friendly, as a distilled rose petal concentrate for cool, instant, fresh, personal moisturizing pore prep. Great for sensitive skin for both women and men's skincare regimens.
COLLECTIVE USES 

Rose water possesses the sweet, delicate scent of the roses from which it is made. It is a natural mild antiseptic and is recommended for acne and skin irritation, for nourishing and hydrating the skin and face, and for nourishing the body after a shower or bath.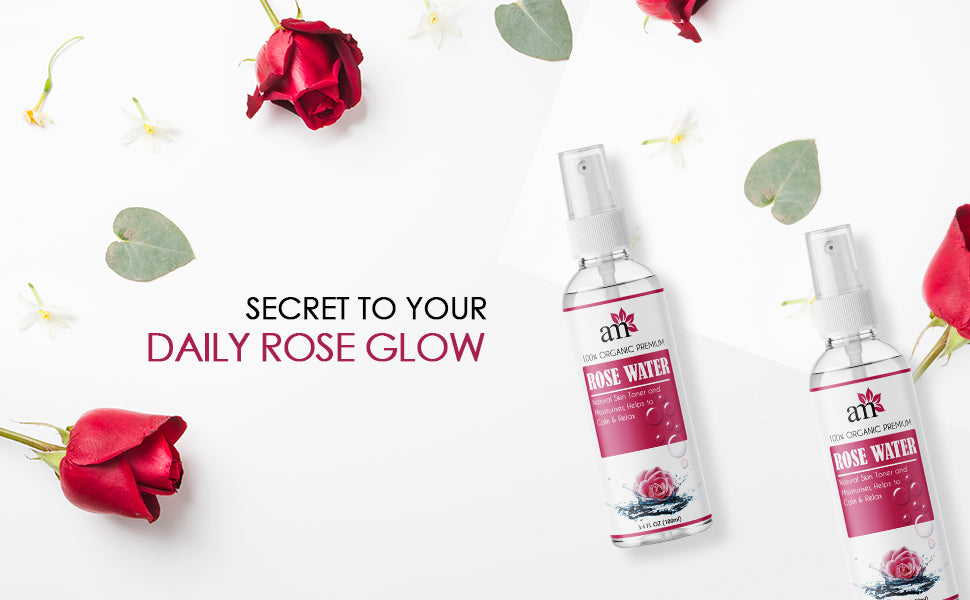 100% Organic & Natural Premium Rose Water/Skin Toner (Gulab Jal) For Face & Skin, 100ml
Aromamusk Premium Quality Organic Rose Water is made using the Best, Organically grown Rose Petals. Rose water possesses the sweet delicate scent of the roses which can offer soothing properties to nerves and is regarded as a mind sedative and anti-depressant. It can hydrate & cleanse the skin, act as a natural skin toner, and help tighten pores. It is a natural solution for maintaining the skin's pH balance and soothing redness and irritation.
The rose has long been known as a romantic flower, and its uplifting scent has a calming effect on the mind. Rose water's use in cosmetics has been widespread from cold creams to soaps; its ability to soothe the skin as well as calm the mind with its delicate fragrance has been recognized for centuries.
The rose water toner is also useful for troublesome skin and helps with skin irritation and inflammation. This aromamusk Natural Rose Water is made up of natural Organically grown Rose Petals.
Product Highlights
ORGANIC ROSE WATER | PARABEN FREE
ALCOHOL-FREE | NON OILY, GLYCERIN FREE
HYDRATING | SKIN TIGHTENING
BRIGHTENING | ANTI-INFLAMMATORY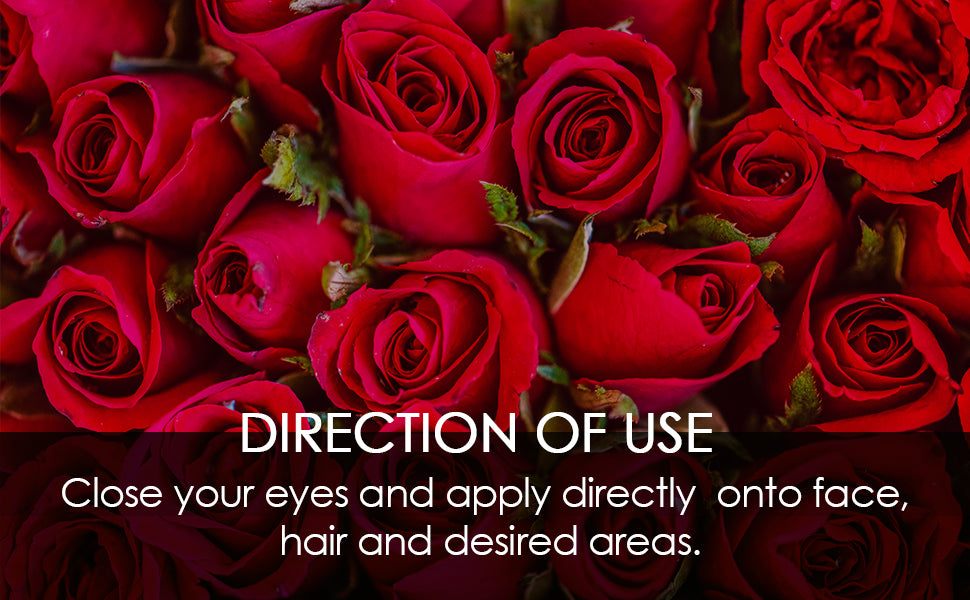 Best product for your skin.
I am using this product since last 2 weeks all I do is spray this all over my face after washing my face its works very nice..
My skin stays hydrated all day log.
Highly recommend.
purchase 2 bottles.
good product with good price.
no irritations no harmful to the face.
must try the product.
Refreshing and revitalises skin. Very nice
Sweet and mild rose scent. No allergies thankfully. Smoothed out my skin and hydrating. Useful both in summer and winter .
Worth it!
This rose water is amazing, I have started applying it recently but I love how it feels on my skin. It's 100% organic and smells really good. I would recommend each of you to buy this one! Apply it before going to bed and have a calming effect on your face :)
Love it
I love it. It certainly works for my skin, offers superb freshness and calming feel. Seems to be as pure as claimed. Am buying again and will stick to it. Hope this quality is retained.